Betfair is one of the world's leading online sports books and it's very rare that anyone disagrees, with most punters and operators commenting frequently on the sites commitment to offering fair, safe, and varied sports betting markets.
There was a lot of positive chatter in the industry when Betfair launched their exchange, which allows punters to place and lay bets (essentially acting as the bookie), and since then the company have grown exponentially, adding a number of other products to their site including a traditional sports book, online casino, online poker facilities, bingo rooms, and more.
Since their merge with Paddy Power, Betfair have become part of one of the biggest gambling organisations the world has ever seen, and enjoys customers from scores of different countries.
[Review Insert]
THE BETFAIR WEBSITE
Betfair's website is sleek, slick, and easy to use, and while it doesn't offer all of the bells and whistles that come with some of the more contemporary sites (that often target younger players), it looks fine, and offers an incredibly reliable, secure, and speedy betting experience.
In the sections below, we're going to look at some of the site's main features, starting with the website itself.
WELL-MADE WEBSITE
Betfair's website is quite honestly one of best around. Everything from navigating the various markets and events on offer, to actually placing your bets and withdrawing funds, is optimised to be as intuitive as possible.
Creating an account at Betfair takes just a couple of minutes, and once you've verified yourself you'll be ready to go. Just head to the cashier section and you'll be able to deposit and withdraw, change your account details, and set any responsible gambling measures that you want in place.
One of the first things you'll probably notice at the site is the speed at which all page's load. Betfair have designed their site to be clutter free, and this keeps everything snappy. For example, Betfair don't plaster promotional banners and imagery all over the place, and although this can make the website look a little bland, the user experience is second to none.
It is definitely a site that suits maturity, and any professional bettors are sure to find what they need here. This can make it a bit intimidating if you are new to online betting as there are a lot of options and they offer every product and market known to man, but once you find your feet you'll realise it is the perfect place to bet.
GENEROUS ODDS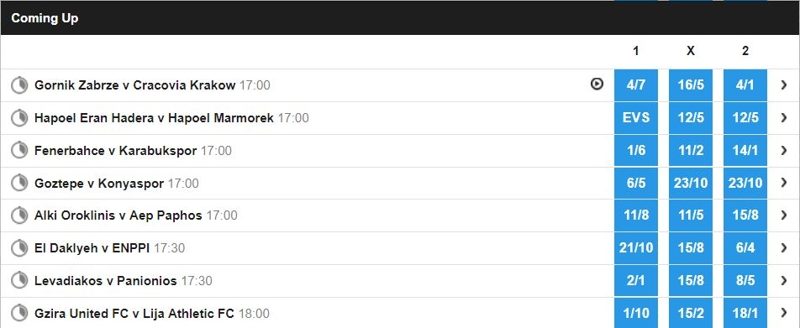 Betfair was founded with the ethos to always offer customers the best odds, and it's fair to say that they've more than lived up to this initial idea.
Thanks to the odds boosts facility, you're in with a great chance of getting better odds than if you were betting elsewhere; in fact, it's very rare to see Betfair beaten on odds by any real margin.
It's not just the odds that help make Betfair such an attractive site to join; their range of bet types is also world class, as alongside all of the classic betting options that you'd expect to find, Betfair allow you to place bets on odds like Asian Handicap Markets, all the Over/Under markets you can think of, leading at x time, etc.
Indeed, Betfair offer a number of pre-built coupons that incorporate these rarer bet types, allowing you to have a punt on bets that you may not have tried before, and you can also build your own same game multi's.
Failing that, you can even ask Betfair to create odds especially for you if they don't offer the market you want. How's that for service?
MOBILE APP
Betfair offer a mobile app to both iOS and Android players, and while the apps are actually a little different depending on the operating system you're using, both are generally reliable, and allow you to access hundreds of markets to bet on every hour.
Of course, it's rare for a mobile app to be as comprehensive as a desktop website, but Betfair certainly come close. From the mobile apps, you'll be able to access your entire betting history as well as making full use of all deposit and withdrawal facilities and access to all of the same markets.
Betfair have also implemented a live score and livestream feature (more on the live streaming below), and of course, cashout facilities are also readily accessible. Betfair were actually one of the first bookies to incorporate mobile cashout facilities, and they tend to be innovators and market leaders.
LIVE STREAMING
With live streaming becoming increasingly popular, it's no surprise that we've seen almost all bookmakers try to implement some form of live streaming into their operations.
One of the biggest attractions of live streams is the fact that – so long as a qualifying bet has been placed – they are usually completely free to watch and the quality is great.
When it comes to live streaming, you're unlikely to find a better bookie than Betfair, who have been one of the pioneers in live streaming from day one. Of course, horse racing is the most widely covered sport available, and they have secured a unique partnership with 'At the Races', which ensures you can watch almost all horse race meetings in the UK, including: Doncaster, Ascot, Fontwell, Goodwood, Newcastle, Lingfield, Southwell, and Sedgefield.
In fact, horse racing is just one of the sports available to livestream, with some of the other markets including: Football, Tennis, Greyhound Racing, Volleyball, Basketball, Cricket, Snooker, Ice Hockey, Rugby League, Handball, Bowls, and even Darts.
Simply click the 'In Play' tab on the main navigational menu and anything being streamed will have a small icon next to it.
THE DADDY OF BETTING EXCHANGES
The exchange betting feature is perhaps one of the reasons why Betfair is so highly regarded, and below we'll talk a little about what an exchange actually is before covering any notable promotions offered to punters who use the exchange.
BETFAIR EXCHANGE: GETTING STARTED
The Betfair exchange was a revolutionary development in the online betting world, as it allowed players to bet against one another as opposed to having to bet against the bookie, and that meant better prices. While it can seem a little complex at first, once you get your head around how it all works it's incredibly simple to use.
First of all, let's take a look at how to actually use the exchange.
Within each market on the exchange you'll see a table that shows the selections of the market (a horse race would list all of the different horses competing for example), along with six other columns.
The two main columns are 'Back All' and 'Lay All'. The Back All column is for back betting – which is when you place a bet on the outcome you want to happen – and if it comes in, you get paid. The pink coloured Lay All column is where you can lay bets, which is essentially betting on an event not happening. In a football match, for example, if you were to lay on a team then you would want them to lose, rather than win.
So, within the exchange you can either place bets as normal like you would against the bookie, or you can lay the bets. The lay bets show punters who are looking for their bets to be taken, so thankfully, there's no rushing around trying to find punters to accept your lay prices – it's all done automatically.
That's the exchange simplified, but people spend years learning how to use it properly (and win consistently), and many punters have made a lot of money from laying bets. Don't make the mistake of seeing it as easy money though, because it can take some time to get the hang of.
BANKING
As you would expect from a bookie the size of Betfair, there are a substantial number of payment options for you to choose from, and this applies both to deposits and withdrawals.
In fact, players from the United Kingdom have a massive amount of choice, and you'll be able to use Visa and Mastercard Debit cards, Neteller, Paypal, Skrill, Paysafecard, Bank Transfer, and interestingly, ApplePay. It's also possible to deposit in cash via a Paddy Power shop thanks to their merger.
To deposit online, just head to the cashier where you'll see all of the various deposit methods available to you. Choose one, enter the amount, and fill out the relevant details.
In terms of withdrawal times Betfair are one of the quicker bookies out there, and while they don't match the speed of some of the modern online casinos, they do aim to process all withdrawal requests in under 24 hours.
Betfair is also ideal for those punters who like to place bets at lower stakes, and this is evidenced by the low minimum deposit limits. Most payment methods allow you to deposit as little as £5 into your account, although some such as PayPal do require a minimum of £10.
Withdrawal minimums are again balanced between £5 and £10, but the exact minimum depends entirely on the payment method you've chosen to use.
History
Although now part of Flutter Entertainment plc, one of the biggest gambling companies there is, Betfair started life in the year 2000, the brainchild of Andrew Black and Edward Wray.
It initially launched as an exchange only, which was a brand new concept at the time and caused quite a stir among traditional bookmakers who were understandably concerned about this young pretender to their throne. The fact that Betfair launched with a campaign called Death to the Bookmaker, with a funeral procession through London and all, probably didn't help.
Six years later and the company was valued a £1.5 billion and had started making acquisitions. They had also continued to be pioneers in the industry, being the first gambling site to sponsor an English football team (Fulham, in 2002) and inventing the concept of cashing out, which all bookies have now adopted.
By 2015 they were a huge name, so much so that high street bookmaker/comedians Paddy Power showed interest in a merger, which was completed in 2016. The deal was actually structured as an acquisition by Paddy Power, creating Paddy Power Betfair plc.
This company ultimately became Flutter Entertainment plc, incorporating The Stars Group, Sky Bet, and some big American brands amongst others, putting Betfair in very good company indeed.