10Bet is one of the oldest betting sites around, and despite not having the biggest player base when compared with some of the more prominent bookmakers, they have still managed to amass a significant share of the online sports betting market, thanks to their wide variety of markets. Players from almost 100 countries have access to over 60,000 sporting events every single month. This is obviously a huge selection of events to bet on, and just one of the reasons why 10Bet are among the top online bookmakers operating today.
There are a range of features available from 10Bet which many other sites don't offer, including the ability to watch live sporting events as they unfold (in particular UK and Irish horse racing events), the opportunity to use their 'cash-out' function, fast markets, and more.
Alongside their sports betting facilities they also offer a number of other products, including an online casino and live casino; and they have become an incredibly well respected and trusted name within the industry.
A quick browse of the forums finds relatively few complaints, which isn't surprising given their fast withdrawals, helpful customer support team, and the way in which they look after regular players. It's clear then that 10Bet is held in extremely high regard by its regulars, which is always a good sign.
In this post, we're going to take an in-depth look at the bookie, revealing the bonuses and promotions they offer, alongside some of the unique features that help them to stand out from many of their competitors.
THE 10BET WEBSITE
10Bet's website may look a little less flashy when compared to some of their main competitors (it is mostly grey after all), but for those who want a simple no strings attached betting experience the site is extremely appealing; and while aesthetic design is clearly not at the forefront of the development team's minds, everything that is there works well, and the site is extremely reliable and secure to boot.
Below, we'll cover some of the main functions and features that make 10Bet stand out.
EASY NAVIGATION
One of the biggest niggles punters have when betting online, is having to navigate through thousands of available markets to find the right bet for them. Thankfully, 10Bet have worked hard to combat this confusing scenario, and their website is designed to allow you access to the market you want easily. On the left-hand side of all pages you'll see two menus; the first holds 'quick links' to the 10 or 12 most popular markets currently being bet on. This menu changes each day and reflects the most popular events currently available at the site. Below this, you'll see another menu titled 'Sports', and this allows you to browse all of the markets currently available in an A-Z format.
BETTING HIGHLIGHTS
While some bookmakers have faced criticism for trying to disguise their most profitable bets as the most popular ones, 10Bet offer an honest and transparent 'Betting Highlights' tab which showcases some of the more favourable prices currently available. These prices are combined with the popularity of the bets in order to display the 5 most popular bets of the day.
Just cross from this, you'll also see an in-play summary area, which gives you a simple overview of the current live games, along with access to the full list of events should you wish to view them.
BET BOOSTS

10Bet have a tab titled 'Bet Boosts' on the sub navigation menu and this gives a list of any odds that have been given a boost, i.e increased in value. The good thing is that you can see what the odds used to be to get an idea of how good a deal it is.
Obviously these exist to encourage people to bet on markets that the bookie needs to balance, but if you bet based on value and there is some probability in there too then you might be tempted. Of course, if you find something you might have bet on any way it's even better.
They do tend to be football based but that's not a hard and fast rule, and they are usually only applied to markets on events that are happening within the next week or so.
SPEED AND USABILITY
As we touched upon briefly in the introduction, 10Bet's website isn't as graphically impressive as it perhaps could be, but this has a plus side as the site is incredibly fast, and this is partially thanks to the high levels of development work that have gone into building the website.
10Bet have always stated that their priority is to offer players an uninterrupted and hassle-free gambling experience, and their developers ensure there are no needless extra's that could slow the site's performance or make navigating a chore.
This is, perhaps, why the design is left a little bare, as snazzy graphics and the like increase loading times. Whether or not this is a deliberate move by 10Bet is beside the point; it works to your advantage, ensuring you enjoy a seamless betting experience.
SPORTS BETTING AT 10BET
10Bet are one of those bookmakers that offer a thorough and varied range of sports betting markets, but they don't really do too much in the way of wowing you. For example, when you compare the bookmaker to sites like Bet 365 and Betfair, there is nothing that really makes them stand out, and the markets they offer can be found at pretty much every other bookmaker on the planet.
Having said that, each bookie has its pros and cons, and one of the biggest things 10Bet has going for it is the bet selections within each market. They offer some of the most comprehensive betting options by far, and you will find yourself with a huge choice of bet types; from English classics like Doubles, Trebles, and Lucky 15's; to the rarer or more obscure bet-types, such as Asian Handicap markets and the always interesting Player Props markets.
VIRTUAL SPORTS
One area that 10Bet excel in is their virtual sports, and while you'll only find three sports in the virtual area (football, horse racing and greyhounds), new Virtuals start every single minute, with a staggering number of betting options available for all. This doesn;t paint the full picture either because their range of Instant Virtuals (slightly different in that they only start when you want them to) is much larger, with 7 options including Velodrome, Speedway, and Trotting.
What's more, unlike some of the other bookies who offer Virtuals, including some major leaguers, the visual quality is incredible; and the stunning 3D graphics render near perfectly on any device. Even better, a player's internet connection is not particularly crucial to a good picture.
This ensures mobile players can enjoy the action (more on that later) as well as those on desktops and laptops with a slower or less-reliable connection.
HOW GOOD ARE THE ODDS?
10Bet offer some very juicy promotional odds and bonuses, largely to tempt players into joining the site in the first place; and while this could be seen as a marketing stunt with some players stating that their odds got significantly worse once they had been registered for a while, our comparisons showed 10Bet still ranked above average when it came to the prices offered on many events.
Odds on horse racing are arguably the bookmakers most generous, although they have stopped offering Best Odds Guaranteed which is a strange move.
All in all, 10Bet are a decent middle of the range bookie for odds in general, and you will definitely find value here.
IN PLAY BETTING
The in-play betting at 10Bet may be one of the only areas of the site that really lets them down. It's not a bad service at all, but it does feel like something is missing.
While there are a strong number of markets available for in-play betting, including: football, basketball, ice hockey, tennis, and handball; the lack of live streaming is an area that the company would be wise to improve upon.
On the other hand, the inclusion of fast markets (bets that are opened and closed within just a few minutes) are a real highlight, especially if you are watching a game that needs some excitement injecting into it, and the in-play stats can be useful too.
There are plenty of extra markets to take advantage of in-play that you can't access pre-game too, so it really isn't all bad, but if you enjoy live streaming you won't find it here.
BEST FEATURES
CASH OUT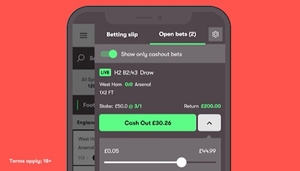 It's rare to see a betting site without some kind of cash out function these days, and 10Bet were one of the first online bookmakers to implement it. In fact, they also offer one of the rarer cash out features, allowing you to cash out bets in full as well as partially.
Cashing out in full allows you to cash out the entirety of your stake while the game is still in play. So, if you backed a football team and they were leading 1-0 in the 75th minute, you could cash out for a profit. This is useful if you don't want to spend the last period of the game on the edge of your seat, crossing your fingers.
Partial cash out allows you to cash out a part of your bet and leave the rest running; say you had a £20 bet on and the cash out was £100, you could cash out half your bet for £50, leaving the remaining £10 on in the hope of winning the event. This is very useful when your returns are a little higher, and you don't want to risk everything when you could walk away a little sooner with a confirmed profit.
If your bet qualifies for cash out you'll see a 'Cash Out' button beneath it on the 'Open Bets' section of your account.
ADD2BET
Ever made a bet and wished you could alter it? Well now you can, with Add2Bet.
This is currently only available on open football bets, and it works by using your cashout value as your new stake. So you essentially cash out your current bet and use that money to wager on the amended bet with the added markets.
The bookie wins here in a way because their vig is built into the cash out price, but, if you cash out a bet that is winning you are still going into your amended bet with more money than you put in in the first place, so it's a win win in some ways.
BET BUILDER
A lot of bookies have these now, but 10Bet's is so easy to use and well worth knowing about.
Football and basketball bettors can take advantage of this feature which lets you build any bet you like by combining multiple different markets from the same event. So you could bet on a team to win, a player to score, and a certain number of corners and get instant odds for these three markets all as one single bet.
This means higher odds. It's higher risk of course, but that's the game, isn't it? The great thing is that you can add and take away markets to your hearts content before you actually place the bet and see odds instantly, so you can play with it until you find something that works for you in terms of risk vs reward.
RESPONSIVE CUSTOMER SUPPORT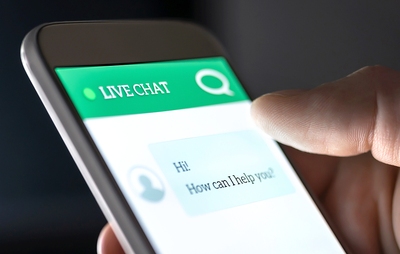 This may sound like an odd choice for a 'best feature' on a betting website, but if you have ever had the misfortune to deal with an unresponsive company in the online gambling industry or elsewhere, you will know just how frustrating it can be, especially when it's real money we're talking about.
10Bet have been committed to looking after their players since day one, and this is shown through the customer support channels they have available to you.
You are able to contact the friendly support team through either the Live Chat function, or via their Email/Phone support, all of which are manned all day every day although you have to be logged in to access live chat.
Email responses are usually pretty quick, within 2 to 3 hours seems to be the norm; and phone waiting times are minimal, perhaps a minute or two at most.
What's even better than the methods of contact, however, is the speed at which operators and staff help you out, and they will go out of their way to ensure you are enjoying the best possible betting experience they can provide. Any account issues, bonus queries, market-problems, or general questions; they're on hand to help, and will be only too happy to do so.
FAST WITHDRAWALS
The 10Bet website may be lacking aesthetically, but the back end of their business is certainly performing as it should; player withdrawals are often processed just a few hours after they've been made, which can see EWallet users getting their funds the same day.
Debit Card withdrawals are subject to industry standard payment times which generally take 2-3 days, but the fact that 10Bet process their withdrawal requests so quickly just goes to show how committed they are to looking after their players, and ensuring their gambling experience is a transparent, trustworthy and enjoyable one.
BANKING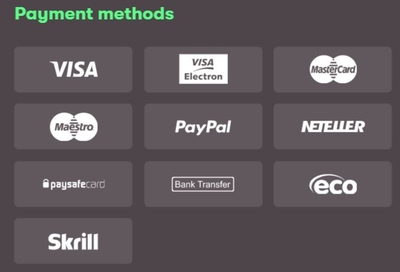 10Bet offer one of the largest selections of deposit methods around, and you'll be able to fund your account using: Visa and Mastercard Debit cards, PayPal, Skrill, Neteller, Applepay, Paysafecard, EcoPayz, and good old fashioned Bank Transfer.
Withdrawal methods are the same where applicable, and the minimum deposit is just £10 on most payment methods.
Withdrawal minimums are not far off, with most payment methods requiring a £10 minimum withdrawal, with the exception of Bank Transfers which have a minimum withdrawal of £25.
Unfortunately, 10Bet don't support the biggest selection of currencies, but you can fund and bet using GBP and EUR. Withdrawals generally take 1-5 days to reach your account, although the pending time isn't explicitly stated.
In terms of withdrawal limits, the maximum withdrawal per request is £50,000 – so it's unlikely many punters are going to run into problems here.
HISTORY & ABOUT
10Bet are one of the UK's younger bookmakers, only coming onto the scene back in 2003; early for the online world, but late when compared to some of the big high street bookmakers like Coral and BetFred.
Despite the apparent disadvantage of entering the market as newbies, 10Bet quickly managed to build a solid name for themselves, and have rapidly adapted their website and sports book to suit players' needs, with a heavy emphasis on horse racing and football which now account for a large percentage of the site's player base.
The mobile optimised version of the site proved a big hit for the company. Released around 2013 and initially slow and riddled with errors, it has now become one of the fastest and most reliable mobile betting sites around, and recent integrations with the site's casino table games and video slots have ensured players can enjoy all of the betting options from one place on their mobile device.
Featuring over 6,000 different events every single day, 10Bet continue to build partnerships with sporting event providers and clubs around the world, and offer a tremendous number of markets, with sports including all major football leagues, horse racing and greyhounds; alongside a range of American sports, like NFL, Baseball, and NBA.
As of 2017, the site boasts players in over 90 countries, and is generally considered to be one of the top five online bookmakers in the market today.